Why Is Play Important In The Parent Child Relationship?
In today's busy world, it is often difficult for us to spend more time with our children, hence it is important that quality time are set aside for parents to bond with their children.
According to The American Academy of Paediatrics, parents should spend some time each day with their child as a child needs your attention, and will act up as a way to get your attention.
Children need to play to relax, learn and develop various skills such as motor skills, cognitive skills and social skills. For younger kids, play is the primary way for them to express their feelings, communicate and solve emotional problems.
It is a window for parents to experience and understand their children's world, and a vehicle for creating a solid bond between you and your child that is felt by the child through your involvement and interest in their world.
What better ways for parents to spend quality time and bond long lasting relationship with their children then through playing with their kids?
Play allows parents to be patient and better understand their child
Play teaches the adults to be patient towards their children. Playing also allows parents to better understand their children and have appreciation of the individuality of each and every kids.
Through play, parents are able to have better knowledge of the personality of their children. As each child is unique in their own ways, the style they play, the way they respond and the type of activities they choose will have some differences.
For example some kids may prefer more passive activities such as reading, painting, and board games, while others may like more outdoor activities such as cycling, playing in the sandpit and gardening.
Play allows positive family connection
When parents spend quality time to engage in playing with their kids, the kids will have positive connection with the parents and feel the family warmth. The children will feel that the parents care and love them.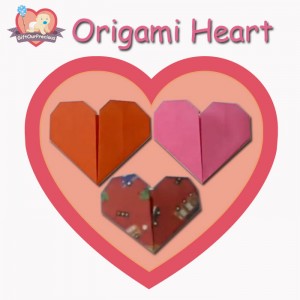 Simple Origami Heart made with Love
This focus and attention from parents, help the children to have positive self-worth, build up their self-esteem and satisfy their emotional needs. These are important to the children's mental health and personal development.
Families who spend time to play together, are also more cooperative, supportive and have better communications.
Play builds confidence, better cognitive and behavioral development
Positive relationship between children and their parents has great influence on many aspect of a child's development. Children who feels the warmth in parenting, tend to lead them to be contented, cooperative, secured and well behave children. They tend to be more confident, achieve better academically and have better cognitive and behavioral development.
Time can put aside on a daily basis to play with you little one. For strained parent-child relationship it is best to set aside at least 5 times a week to attempt to play with your child to improve your relationship with your child.
Play promotes good family bonding and well-being
Play can be incorporated in your daily activities such as getting your child to help out with simple chores during baking, cooking time or when doing gardening work. Origami Paper Folding, Board, card games and puzzles permit you and your child to spend quality time together and they motivate participation from loved ones. Doing exercises together with your child also promote good bonding and well-being of you and your child!
Besides doing Origami (Paper folding) and simple crafts with Leeroy, we also do simple science and water experiments with him. We bought a pack of 12 Magic dinosaurs water capsules and placed each of the capsule in a glass of water and the 3 of us watch in amazement the transformation of the capsules into cute little dinosaurs sponge within a few minutes.
What we did next was to go to wikipedia and read up the details of the intimating names of the 12 dinosaurs.
From this simple water experiment, the 3 of us had a very enjoyable and quality bonding time together learning about colors, shapes, dissolving capsules and last but not least learning the 12 intimating dinosaurs name.  😉
* Yes, we video all the 12 dinosaurs capsules transformation for you and your child too. Enjoy!!
Some other ways which can make this more fun and educational would be to use different water temperature or use different types of liquid, e.g. vinegar, salt water, soft drinks, milk etc and see the effects of these variables on the speed of dissolving.
Do share on the comment below on some of your other parent-child bonding ideas and suggestions.
Have you set aside quality bonding time with your child?
Recommended Reading :
12 Tips to Building Resilience and Confidence in Children
Top 10 Tips on How To Be a Good Parent
Sources:
http://www.child-encyclopedia.com/parenting-skills/according-experts/role-parents-early-childhood-learning
http://everydaylife.globalpost.com/positive-parenting-positive-development-children-2633.html
http://www.thesuccessfulparent.com/categories/parent-child-relationship/item/repairing-the-parent-child-relationship
http://www.parents.com/fun/sports/exercise/the-importance-of-play/