With the news and video of Gigantic Brahma Chicken storming and terrifying the internet the past few days, we (Dad, mom and leeroy) decided to put on our investigative hat and research deeper into this unknown to us, awe looking Brahma Chicken (also known as Brahma in short).
Origin of Brahma ?
Our first search is from the trust-worthy and knowledgeable wikipedia. It reveals that the Brahma is a large breed of chicken developed in the United States from very large birds imported from the Chinese port of Shanghai, though with considerable controversy over the origin. The Brahma was the principal meat breed in the US from 1850s till about 1930.
(*Puzzled on the choice of phase "developed in the United States", does that mean this Brahma breed is genetically modified in United States ?)
Is Brahma genetically modified ?
Our next investigation leads us to enter "is Brahma chicken genetically modified" in the google search.
This post returned 1st in the search result and contains more information about this Brahma.
It is mentioned that the Brahma in the video belongs to the Asiatic class, one of six classes (American, Asiatic, Continental, English, Mediterranean, and All Other Standard Breeds) of large breed chickens recognized by the American Poultry Association.
The Asiatic class consists of 3 breeds (Brahma, Cochin and Langshan), have their origins in China, large, feather legged and lay brown eggs.
No conclusive information is presented in the article whether Brahma is genetically modified so we move to the 2nd post returned from the search result.
Though the 2nd article does not specifically mention that Brahma is genetically modified, it does sort of answer it in a generic way
"But what many people don't realize is that the agriculture industry has also been genetically modifying farmed animals for years."  
"One good example of the bizarre outcome of these cruel experiments is the modern chicken."
How heavy is the Brahma ?
We are really curious on the weight of the Brahma, how heavy do they actually weigh ?
According to wikipedia, some very large Brahmas weigh about 8kg (18 lb) for cocks and 6kg (13 lb) for hens.
To put things in perspective, let us compare Brahma to the weight of a broiler chicken (chicken specifically raised and bred for meat production).
Most commercial broilers are bred to reach a slaughter-weight of about 2 kg (4.4 lb), which makes Brahma between 3 to 4 times heavier than the weight of our typical chicken.
How about when compared to Turkey ?
A male wild turkey weighs between 16 and 24 pounds when fully grown, while an adult female wild turkey weighs 8 to 10 pounds. Hence Brahma and Turkey weigh comparable.
Hmmm…, perhaps can consider substitute roast Turkey with Brahma as Christmas meal ?   😉
Does Brahma all look similar as shown in the video?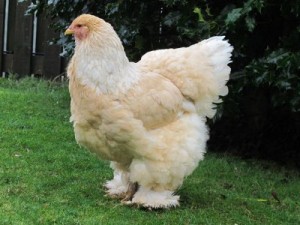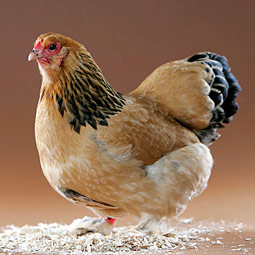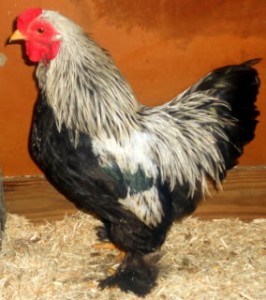 It seems like not all Brahma breed is as huge as that shown in the video and we really like the fluffy feathers of Lemon Pyle Brahma Chicken, looks like a majestic eagle (at least in our opinion)
That wraps up our research findings of Brahma.
If you know of any other interesting facts about Brahma, do leave us a comment below.
We still very much prefer our kids friendly simple and easy Origami Rooster and Origami Hen over Brahma though.